One year ago, Heroku sunsetted its free tier. Today, we want to reaffirm our commitment to maintaining our free tier, dive into why offering a free tier for compute is complicated (we are looking at you crypto miners), take the time to explain how we intend to sustain it, and explain why we are so committed to providing a free tier.
Long story short: we aim to keep a free tier thanks to how we control our costs. We do this by controlling the infrastructure layer (we run on bare metal, not on another platform like AWS or GCP) and we plan to auto-suspend your services with our upcoming scale-to-zero feature when there is no traffic.
The real challenge of sustaining a free tier for compute: abuse and fraud
Hands down, the biggest challenge you face when offering free compute resources is combatting abuse and fraud. Heroku gave a great talk on the subject at Black Hat in 2020. In fact, when explaining their decision to sunset their free tier, Heroku cited the "extraordinary amount of effort to manage fraud and abuse of the Heroku free product plans".
To make it sound scary (but nonetheless true): If you're offering free compute resources, the worst of the Internet will find you.
We can testify that when you offer free compute, you will encounter people who try to take advantage of every compute resources you offer. In October 2022, we had to limit build concurrency due to crypto miners launching hundreds of deployments at the same time to take advantage of our builders and mine during the stage we build users' applications.
Just like GitHub, we've also seen a huge influx of use cases you usually don't want like crypto mining, carding, and distribution of DMCA-protected content to mention a few.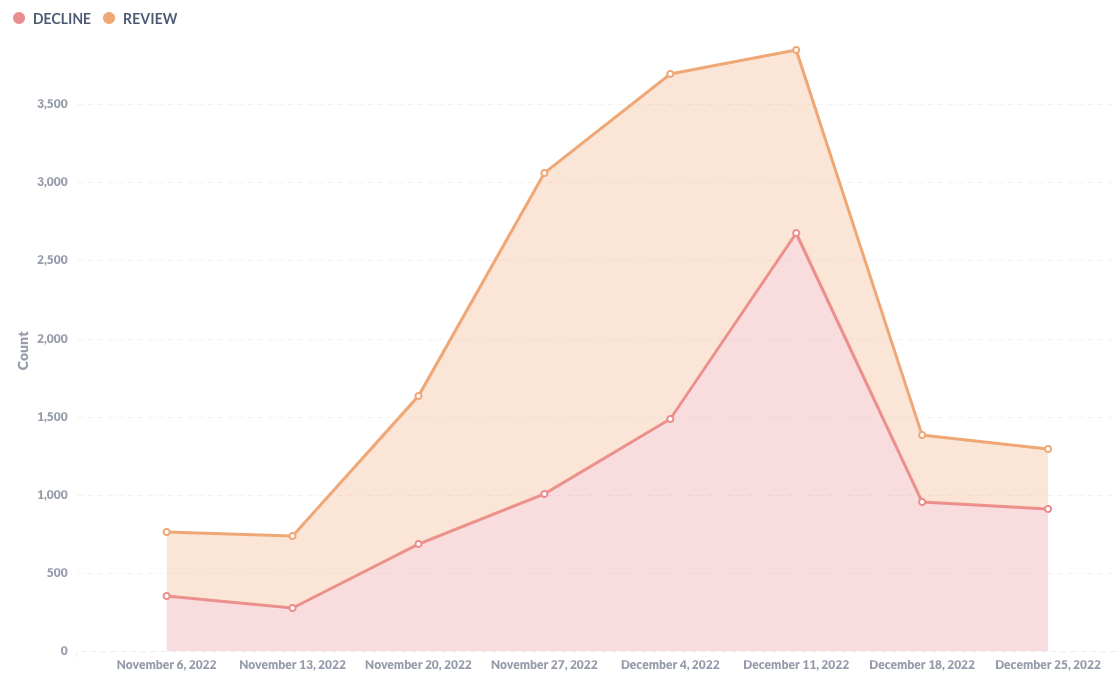 We've also seriously seen abusers complain that it's hard to create multiple accounts to deploy more services for free and abuse our platform.
Time spent fighting abuse detracts from building the business and features we want for our target users.
Can we maintain a free tier without requiring a credit card?
As we mentioned above, the big challenge everyone offering a free tier including computing resources faces is combatting abuse and fraud. There are many solutions like IP checks, domain blacklisting, and device fingerprinting to combat fraud and abuse, but most of them can only hold off for so long.
One effective but unwanted solution to control fraud: requiring a credit card at sign up. While not a silver bullet, it is a helpful tool in significantly reducing fraud and abuse.
Asking for a credit card at signup is an undesirable solution though: it is a serious roadblock to testing a platform. Sure, if you are really excited about trying a service and you know you are not going to be charged anytime soon, you might hop over this obstacle. In reality, being asked to put in a credit card just to try a new product is more than discouraging, it's a reason to churn.
In December 2022, we had to require a payment method for everyone who wanted to access the platform due to an exponential surge of abuse. This was the quickest solution we had to control abuse and sustain our free tier.
However, we believe keeping a free tier available without a credit card is key for a frictionless onboarding. As a newcomer in the market, it is vital for us to provide an easy way for new users to test our platform. We studied our options, and we now offer a signup that will prompt you for a credit card only if we find no automatic way to prove that you're a human.
We are committed to maintaining a free tier. In the long run, we think we can keep a free tier with 1 Service running on a tiny instance (2GB Disk, 256 MB RAM, and 0.1vCPU).
Just as serverless is not without servers, a free tier is not without costs. Who manages the servers? Who is stuck with the bill of the free tier? In our case, the answer to both of these questions is Koyeb.
We run all user applications on bare metal machines. We wrote about our decision to run on bare metal machines and custom build our serverless engine earlier. To sustain our free tier, we carefully select the underlying providers.
For those who are unfamiliar with bare metal infrastructure, it means we run directly on top of aluminum bears physical servers and we play with technologies nobody cares about anymore like PXE, RAID, IPMI, and these kinds of technologies that are powering the Internet.
But more importantly, to return to our cost subject, it means we don't pay the cost and performance premium of virtual machines, making it way more sustainable to provide the free tier.
Scale-to-zero
We don't want to alter the experience in a way that makes the platform unusable for hobby projects. On the contrary, we want you to use and enjoy the platform in the hopes you will want to deploy your production workloads on us.
Right now, we simply suspended services after 30 days of inactivity, inactivity being considered as you did not connect to your account. With scale-to-zero, we will suspend inactive services when there is no traffic and respawn them on new requests. We aim to release this during the first months of 2024!
Will the free tier stay free?
The recurring question "Will the free tier stay free?" is one we face often. When you see other players discontinue their own free tier, it is a legitimate fear and reasonable concern.
The answer is simple: yes our free tier will remain free. Now, you might be wondering: "Why commit to a free tier?"
We don't make money with the free tier: there is no weird business model where we secretly sell your data.
The tl;dr answer: we do Product Led Growth (PLG) and we understand that discovering, trusting, and liking a cloud platform like us all starts with an idea or a hobby project.
The great folks at Tailscale explained PLG well. Here is how we would sum it up:
The free tier is a giant learning playground for us. We chat with you, get your feedback and learn what you need from our solution.
If you like the product, you're going to tell your friends, your co-workers, and your boss. These last ones are most important for our business, bringing us production use cases that generate revenue. Word-of-mouth helps us get known and brings us more advanced use cases.
In a way, it's free resources for you, feedback and word-of-mouth for us.
Supporting builders because it all starts with an idea or a hobby project
When you have an idea or a hobby project, your goal is to bring it to life quickly and efficiently. Our mission is to offer the fastest way to deploy applications globally, and we want to make this opportunity accessible to everyone, from developers with a side project to large businesses.
We understand the pain of launching a project, we've looked for all the free tiers or perks to limit our costs when we started. These free resources were instrumental in getting us to where we are today.
We're now happily paying for products which we used for free when starting. (And we're still avoiding like hell anyone who wants us to take a call before being able to test the product.) So, if you happily deploy your side project on us and it grows into a successful business, we are confident you'll become a paying user.
So our end game is officially disclosed: helping you start for free and converting you into happy paying users when you succeed.
Our free tier and pay-as-you go plans
All our plans include one Free web service available in Frankfurt, Germany and our community platform to get support.
We currently offer 4 different plans so that you can grow with us:
Hobby: a completely free plan restricted to one Free web service with git deployments only.
Starter: a $0/mo plan where you pay-per-use for the resources you use. Instances start at $0.000001 per second, which when calculated for a month is $2.7 per month. Deploy Workers and Web Services, invite your teammates, access to US & EU locations, custom domains, global deployment capabilities, private networking, horizontal scaling, and larger instances with up to 16GB of RAM & 16 vCPU.
Startup: a $79/mo plan designed for production use cases. Collaborate with your team, access all our locations, use up to 64GB of RAM & 64 vCPU per instance, and enjoy priority support.
Enterprise: a custom plan for large businesses. Supercharged security and support features.
And if you have an open-source project and need more resources, we sponsor open-source projects with free credit.
We're committed to the free tier
We are committed to maintaining a free tier. Right now, we are able to sustain it without requiring users to put down a credit card. We sincerely hope to keep it this way.
With the end of Heroku's free tier, developers are looking for alternatives for deploying their full-stack applications and are rightfully wondering if free tiers won't last forever. We are here to say: Give us and our forever-free tier a spin!
Get started and deploy for free! Create your free account and deploy your first application in seconds!