Awesome news, like our servers, the Koyeb team is horizontally scaling!
At Koyeb, we are building a serverless platform that delivers the fastest way for developers and businesses to deploy applications. We are a small, distributed, team located primarily in France dedicated to creating the next-generation serverless cloud computing platform.
Nicolas is our newest team member. As a Senior Backend Engineer, he is helping make Koyeb's vision for serverless a reality. Get to know more about him with this interview!
Also, we are hiring! If the thought of building a next-generation cloud platform and working with the latest technology making serverless possible excites you, check out our openings and learn more about us.
Meet Nicolas!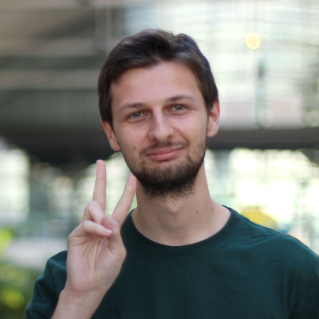 Why did you join Koyeb?
I am really interested in low-level subjects like containers and networking, so this opportunity is a good match for me. At Koyeb, we extensively use a combination of Firecracker, Envoy, Kuma and Nomad to host our clients' services with both security and performance in mind - all of that is very exciting.
To get a better idea of what I am talking about, check out The Koyeb Serverless Engine: from Kubernetes to Nomad, Firecracker, and Kuma and How requests flow from the Edge to the Core and through our Service Mesh.
But these are not the only topics I work on. Since we are a small team, we all wear a lot of hats, meaning we have the opportunity to work on a bunch of other things, like our gRPC APIs, the infrastructure, and the product. I really like that we are a smaller team because each of us can influence the product. Also, everyone here is very talented, so working together is a breeze.
What's your remote setup?
On a good day, I work at my desk when I am remote. Other days, I work from my couch. 🛋🤷‍♂️
But since I do live 10 minutes from the Paris office, I actually work there most of the time.
Spaces or tabs?
gofmt says tabs, so tabs it is.
Windows, Mac, or Linux?
At heart, I am a die-hard Linux boi. In reality, I really like Linux, but as soon as you need to connect Bluetooth or to a projector for a presentation, it all goes downhill. This is why I use Mac.
How do you like to spend your free time?
Technology is my day job because I really like it, so even in my free time I play around with computers and read tech articles. Also, I like spending my evenings with my friends and family, watching esports, or the best- both at the same time!
Recently, I have been learning to skateboard, but I am still figuring out how not to fall. 👍
Last best meal you made or ate?
A sandwich with rillettes (very similar to a French pâté), but don't tell my girlfriend because she refuses to admit that this sandwich is the best meal ever.
Favorite side project you have worked on?
Sometimes during the year, I give an introduction to OS course at an engineering school. I really like doing this for a couple of reasons.
I really enjoy teaching because it is pretty fun!
When you teach something you really have to know your stuff; I see what I understand well and what I need to brush up on. So teaching this course really reinforces my knowledge on the subject.
What was the best concert you have ever been to?
The most memorable concert I ever went to was Mija a few years ago. I went with other friends to see her set, it was supposed to only last for 1 or 2 hours. In the end, she played all night and we all had to work the next morning. Needless to say, it was difficult to focus during the meetings that day. Andries, if you are reading this, sorry about that!
What is your all-time favorite movie or TV show?
I think I am going to go with The Office, as it is one of the funniest things I've seen recently. I don't know if it really my favorite, but it is just the first thing that comes to mind.
I am learning Russian, and sometimes I make sense with very simple sentences! It may not be a talent, but it is a hobby of mine that not too many people know about!
Finally, how can we reach you on the Internet?
On Twitter, you can find me at @_nicoche and if you want to see what I am up to on GitHub you can find me @nicoche.
Join Koyeb's mission to build the next-generation serverless cloud platform
That's right, Koyeb is hiring! If you are enthusiastic about working with emerging technologies enabling new serverless capabilities and want to help build a next-generation cloud platform, consider joining our journey to build Koyeb. See our openings on our careers page and learn more about us.